Eman Ahmed, the worlds heaviest Egyptian Woman who was operated in India earlier this year, Dies! The woman considered as the worlds heaviest woman weighed over 500 kgs, was operated on by Doctor Lakdawala in Mumbai's Saifee Hospital.
She lost over 300 kgs over the next few months thanks to the diet & efforts put in by the hospital.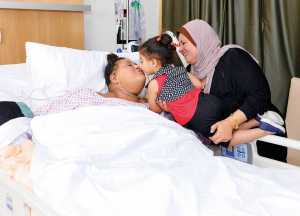 However things turned acrimonious and relations soured as Eman's sister started blaming Dr. Lakdawala for many things ranging from neglect to being publicity hungry. The sister then finally decided to move Eman to UAE for better treatment.
A lot on this has been said, discussed, televised and printed in the media as both sides pointed the finger at the other person blaming them for the turn of event. Eman finally moved out of Saifee and to Abu Dhabi's VPS Burjeel earlier this year.
Although being under the care of over 20 doctors over the past few months at Abu Dhabi's VPS Burjeel, she died at 4.35 am on Monday due to heart diseases and kidney dysfunction.
We pray her soul rests in peace and pray for her family to be strong.